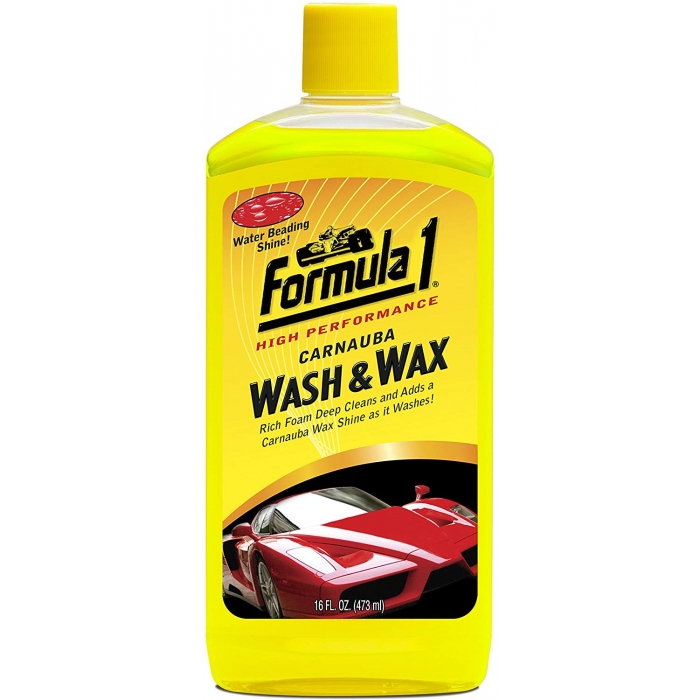 --6 %

Hurry, this offer ends in:
This product is eligible for Free shipping
Available offers

Instant 5% Extra Discount on Debit Card/Credit Card/Net Banking/UPI

EMI is available for shopping more than Rs:999.

Shop Now & Pay Later with ICICI Pay Later.

Free Delivery all across India.
Available Options

COD
Charges Rs.60

Delivered
3-5 Days

15 Days
Return

15 Days
Warranty
Don't see the answer you're looking for?
There are no questions for this product.
Out in the open, your vehicle is exposed to elements such as dust, dirt, grime, tree sap and bug splatter. In order to get rid of such elements and ensure that your car looks spick and span, use this Formula 1 carnauba wash & wax. This liquid cleaner will rinse and clean your car's exterior and leave behind no spots. It also keeps the auto paint shiny and protected. Quality Product This cleaner creates a rich foam that deep cleans and adds a carnauba wax shine while washing. The carnauba wax also offers water-beading protection to all types of paint finishes.
DIRECTIONS:
1.Add 30ml of Formula 1 to 4 liters of water in bucket.
2. Rinse loose dirt off car starting with top.
3. Using soft cloth or mitt, wash and rinse one section at a time starting with top.
4. Rinse entire car and wipe dry.
Warranty: NA
In The Box: One Unit of Formula 1 Wash & Wax (236 ml).
Formula 1 High Performance Carnauba Wash & Wax.
Rich foam deep cleans dirt and road grime.
Shines all car finishes to look like new.
Protects paint between waxings.
Wash and wax you care in one easy step.
FORMULA 1's concentrated formula deep cleans dirt, grime, bugs and tar stains.
Plus FORMULA 1 leaves pure Carnauba Wax Shine and protection every time you wash.
Product Detail
Brand
Formula1
Weight
236ml
Tags:
Car polish
,
Car wax polish
,
formula 1 Car polish
,
Meguiars
,
Car polish online
,
Hyundai Car Accessories
,
Maruti Suzuki Car Accessories
,
Honda Car Accessories
,
Toyota Car Accessories
,
Tata Car Accessories
,
Chevrolet Car Accessories
,
Volkswagen Car Accessories
,
Nissan Car Accessories
,
Audi Car Accessories
,
Renault Car Accessories
,
Mahindra Car Accessories
,
Skoda Car Accessories
,
Fiat Car Accessories
,
Ford Car Accessories
,
Mercedes Benz Car Accessories
,
Volvo Car Accessories
,
BMW Car Accessories
,
Jaguar Car Accessories
,
Land Rover Car Accessories
,
Maruti Alto Accessories
,
Maruti New Baleno Accessories
,
Maruti Celerio Accessories
,
Maruti Ciaz Accessories
,
Maruti Swift Dzire Accessories
,
Maruti Eeco Accessories
,
Maruti Gypsy Accessories
,
Maruti Ignis Accessories
,
Maruti Wagon R Accessories
,
Maruti Omni Accessories
,
Maruti S Cross Accessories
,
Maruti Swift Accessories
,
Maruti Vitara Brezza Accessories
,
Hyundai Creta Accessories
,
Hyundai Elantra Accessories
,
Hyundai Eon Accessories
,
Hyundai Getz Accessories
,
Hyundai Grand i10 Accessories
,
Hyundai i10 Accessories
,
Hyundai i20 Accessories
,
Hyundai Santro Xing Accessories
,
Hyundai Sonata Accessories
,
Hyundai Tucsun Accessories
,
Hyundai Xcent Accessories
,
Hyundai Accent Accessories
,
Honda Accord Accessories
,
Honda Amaze Accessories
,
Honda Brio Accessories
,
Honda BRV Accessories
,
Honda City Accessories
,
Honda Jazz Accessories
,
Honda Mobilio Accessories
,
Honda WRV Accessories
,
Maruti Ertiga Accessories
,
Tata Bolt Accessories
,
Tata Hexa Accessories
,
Tata Indica Accessories
,
Tata Indigo Accessories
,
Tata Nano Accessories
,
Tata Safari Accessories
,
Tata Sumo Accessories
,
Tata Tiago Accessories
,
Tata Zest Accessories
,
Tata Indica Vista Accessories
,
Tata Indigo Manza Accessories
,
Chevrolet Beat Accessories
,
Chevrolet Cruze Accessories
,
Chevrolet Enjoy Accessories
,
Chevrolet Sail Accessories
,
Chevrolet Aveo Accessories
,
Volkswagen Ameo Accessories
,
Volkswagen Cross Polo Accessories
,
Volkswagen Jetta Accessories
,
Volkswagen Passat Accessories
,
Volkswagen Polo Accessories
,
Volkswagen Vento Accessories
,
Toyota Corolla Altis Accessories
,
Toyota Camry Accessories
,
Toyota Etios Accessories
,
Toyota Innova Crysta Accessories
,
Toyota Land Cruiser Accessories
,
Toyota Etios Liva Accessories
,
Toyota New Fortuner Accessories
,
Toyota Land Cruiser Prado Accessories
,
Toyota Innova Accessories
,
Toyota Fortuner Accessories
,
Nissan Evalia Accessories
,
Nissan Micra Active Accessories
,
Nissan Micra Accessories
,
Nissan Sunny Accessories
,
Nissan Terrano Accessories
,
Nissan X Trail Accessories
,
Renault Duster Accessories
,
Renault Kwid Accessories
,
Renault Lodgy Accessories
,
Renault Scala Accessories
,
Renault Pulse Accessories
,
Mahindra Bolero Accessories
,
Mahindra E20 Accessories
,
Mahindra Kuv 100 Accessories
,
Mahindra Navosport Accessories
,
Mahindra Quanto Accessories
,
Mahindra Scorpio Accessories
,
Mahindra Thar Accessories
,
Mahindra TUV 300 Accessories
,
Mahindra Verito Accessories
,
Mahindra Xylo Accessories
,
Ford Classic Accessories
,
Ford Ecosport Accessories
,
Ford Figo Aspire Accessories
,
Ford Figo Accessories
,
Ford Endeavour accessories
,
Ford Old Endeavour Accessories
,
Ford Old Figo Accessories
,
Ford Fiesta Accessories
,
Fiat Avventura Accessories
,
Fiat Linea Accessories
,
Fiat Punto Evo Accessories
,
Fiat Punto Accessories
,
Skoda Octavia Accessories
,
Skoda Rapid Accessories
,
Skoda Superb Accessories
,
Skoda Yeti Accessories
,
Skoda Laura Accessories
,
Skoda Fabia Accessories
,
Maruti Alto 800 Accessories
,
Maruti Alto K10 Accessories
,
Hyundai Santro Accessories
,
Hyundai Verna Fluidic Accessories
,
Tata Safari Storm Accessories
,
Chevrolet Sail Uva Accessories
,
Chevrolet Aveo Uva Accessories
,
Maruti Sx4 Accessories
,
Mitsubishi Car Accessories
,
Mitsubishi Pajero Accessories
,
Mitsubishi Pajero Sports Accessories
,
Maruti Ritz Accessories
,
Honda Civic Accessories
,
Audi A3 Cabriolet Accessories
,
Audi A3 Accessories
,
Audi A4 Accessories
,
Audi A5 Accessories
,
Audi A6 Accessories
,
Audi A8 Accessories
,
Audi Q3 Accessories
,
Audi Q5 Accessories
,
Audi Q7 Accessories
,
Audi RS5 Accessories
,
BMW 1 Series Accessories
,
BMW 3 Series Accessories
,
BMW 4 Series Accessories
,
BMW 5 Series Accessories
,
BMW 6 Series Accessories
,
BMW 7 Series Accessories
,
BMW X1 Accessories
,
BMW X3 Accessories
,
BMW X5 Accessories
,
BMW X6 Accessories
,
Mersedes A Class Accessories
,
Mersedes B Class Accessories
,
Mersedes C Class Accessories
,
Mersedes CLA Class Accessories
,
Mersedes CLS Class Accessories
,
Mersedes E Class Accessories
,
Mersedes GLA Class Accessories
,
Mersedes GLC Class Accessories
,
Mersedes GLE Class Accessories
,
Mersedes GLS Class Accessories
,
MersedesS Class Accessories
,
Volvo S60 Accessories
,
Volvo S80 Accessories
,
Volvo S90 Accessories
,
Volvo V40 Accessories
,
Volvo XC60 Accessories
,
Volvo XC90 Accessories
,
Jaguar XE Accessories
,
Jaguar XF Accessories
,
Jaguar XJ Accessories
,
Datsun Accessories
,
Datsun Go Plus Accessories
,
Datsun Go Accessories
,
Datsun Redi Go Accessories
,
Maruti 800 Accessories
,
Maruti Zen Accessories
,
Maruti Zen Estilo Accessories
,
Hyundai Santa Fe Accessories
,
Chevrolet Spark Accessories
,
Chevrolet Tavera Accessories
,
Jeep Car Accessories
,
Jeep Compass Accessories
,
Captur Accessories
,
Tata Nexon Accessories
,
Maruti New Swift 2018 Accessories
,
Maruti New Dzire 2017 Accessories
,
Maruti New Ertiga 2018 Accessories
,
Hyundai New Creta 2018 Accessories
,
Mahindra New XUV 2018 Accessories
,
Honda Amaze 2018 Accessories
,
Toyota Yaris Accessories
,
Mahindra Marazzo Accessories
,
Hyundai New Santro 2018 Accessories
,
Tata Harrier Accessories
,
Mahindra XUV 300 Accessories
,
Maruti New Wagon R 2019
,
Honda Civic 2018
,
Hyundai Venue Accessories
,
Toyota Glanza Accessories
,
Nissan Kicks Accessories
,
MG Car Accessories
,
MG Hector Accessories
,
Kia Car Accessories
,
Kia Seltos Accessories
,
Maruti XL6 Accessories
,
Hyundai Grand i10 NIOS Accessories
,
Renault Triber Accessories
,
Hyundai Kona Electric Accessories
,
Tata Altroz Accessories
,
Renault Kwid 2019 Accessories
,
Maruti Spresso Accessories
,
Tata Nexon EV Accessories
,
Tata Gravitas Accessories
,
Maruti XL5 Accessories
,
Maruti Grand Vitara Accessories
,
Toyota Corolla 2020 Accessories
,
Hyundai Verna 2020
,
Hyundai Creta 2020 Accessories
,
Hyundai Palisade Accessories
,
Kia Sportage Accessories
,
Kia Carnival Accessories
,
Kia Rio Accessories
,
KiaStonic Accessories
,
Hyundai Aura Accessories
,
Renault Arkana Accessories
,
MG Baojun 510 Accessories
,
MG ZS EV Accessories
,
MG GS Accessories
,
Mahindra XUV500 Aero Accessories
,
Nissan Note e Power
,
Skoda Octavia 2020 Accessories
,
Skoda Karoq XUV Accessories
,
Volkswagen Virtus Accessories