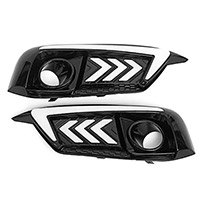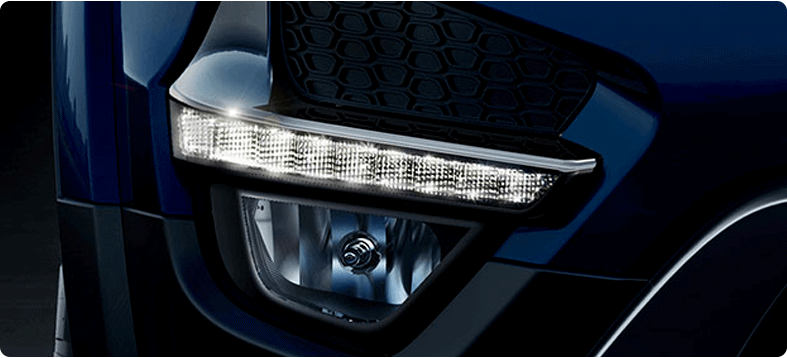 Day-Night Running Lights (DRL)
DRL or Daytime running lights are new features can see in all cars. DRL Lights are placed on the front of the vehicle that always turns on whenever the engine is on. They will not illuminate the road because the purpose of the DRL lights is to increase the visibility of your vehicle in Daytime also so that other car drivers can see you easily on the road in the daytime. Most of the drivers turn off their vehicle lights in the daytime. DRL lights make for the road safer for all drivers and pedestrians. These lights are also very useful in winter season or foggy weather.

DRL Lights are a nice way to add style to your car or vehicle however some company offers inbuilt DRL lights in their vehicle top model. But don't be let down if your car does not have the DRL lights. You can buy aftermarket DRL lights products for your car. You don't need to cut any wire because these lights mostly plug and play type. Prices are drl lights depend on your car model, some car model DRL lights price is can be high.

Similarly Led Reflector lights also increase the visibility of your vehicle but reflector led lights are placed your vehicle backside at bumper we also call them led bumper reflector lights. reflector lights are directly replaced by an original reflector which is already there in your back bumper. these are the new kind of lights for cars and very trending these days. Reflector lights add some extra dynamic look to your vehicle. prices of these lights again depend on car make or model.
Latest DRL Lights Accessories Price List
| | |
| --- | --- |
| 1. Bumper LED Reflector Lights For Honda BRV | Rs.1,499 |
| 2. Front LED DRL Daytime Running Light For Maruti New Swift 2018 | Rs.2,400 |
| 3. Bumper LED Reflector Lights For Honda New Civic 2019 (Arrow Style) | Rs.2,400 |
| 4. Hyundai Venue Headlight LED DRL Daytime Running Light With Moving Matrix Turn Signal | Rs.6,200 |
| 5. Volmax Universal Car Led Fog Lamp With DRL Daytime Running Light & Matrix Turn Signal - Set Of 2 | Rs.3,000 |
| 6. Maruti Suzuki New Dzire DRL Daytime Running Lights With Fog Lamp - Volmax | Rs.4,000 |
| 7. Honda New Amaze 2018 Front LED DRL Daytime Running Light - Volmax | Rs.3,400 |
| 8. Hyundai Venue Bumper LED Reflector Light Tail Light Design - Volmax | Rs.2,000 |
| 9. Bumper Led Reflector Lights For Kia Seltos Type C Set of 2 | Rs.1,400 |
| 10. front LED DRL Day Time Running Light for Tata Nexon | Rs.3,800 |