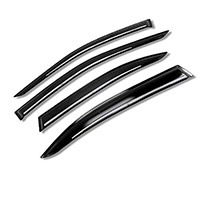 Car Exterior
Your car defines your personality, maintaining a car clean as your personality. Always tried to keep clean your car interior & exterior both. There are so many car exterior accessories that help you to maintain your car clean and improve your car performance. To add new features or upgrade your car exterior looks you need to install some exterior accessories into your car. the car accessories market is leaving no stone to offer high-quality accessories to compliment a new car. These Exterior Accessories enhance your vehicle exterior look, but also provide securities & safety to your car from all kind of odds.
Types Of Car Exterior Accessories
Car Cover - If you drive your car once or twice in a week then you should protect your car from dirt, dust, mud, scratches, dent and harmful sunrays. Carhatke offers a premium quality branded car body cover.
Car Side Beading and Cladding - These accessories are placed at the bottom side of all four doors to protect your car body from scratches, sometimes when we drive a car or park a car our car getting sides from unwanted objects these accessories help to protect the car in this situation.
Side chrome mirror covers - enhance your car exterior look, but also if your car side mirrors are scratchy looking rusty you can cover them by installing these accessories. Chrome Accessories also add a bold look to your car.
Car Front Grill - Car front grills are used to modified your car front look, sometimes we bored from our car look and want to give some new kind of look to our vehicle that suits our personality. car front grills are perfect for makeover car exterior look.
Roof rails - Roof rails are placed on the top of a car roof, some people place these accessories to enhance the car looks, but there is another reason to why we place these accessories on our car. these accessories maintain the car balance and cut the air when we driving a car on a highway at high speed. We also recommend if you have an SUV Car or Hatchback Car you should install roof rail in your car.
Window Door Visor - Car Window Door Visor There are many reasons to install window door visor in your car, these accessories enhance your car exterior look, but also protect from rain when windows are open and prevent from the heat when parked in the daytime in the hot sun if we can keep slightly open the window.
Carhatke offers a wide range of car exterior accessories online along with these all accessories like - car mudflap, car wiper, led drl lights, bumper reflector lights, window garnish. There are so many varieties in all categories you can browse according to your car need and your choice.