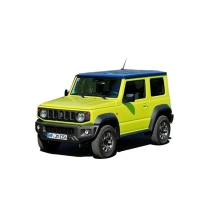 The Maruti Suzuki Jimny is a compact SUV that has a loyal fan base across the world for its off-road prowess and retro design. The Jimny was launched in India in 2023 as a five-door version, and many enthusiasts were eagerly waiting for it. Whenever you purchase a new car, you need to install some accessories in it for utility purposes and to make the car more stylish.
• DRL: Daytime Running Lights (DRL) with Turn Signal is a feature available in the Maruti Suzuki Jimny. The integrated DRLs and turn signal enhance the aesthetics of your Jimny and improve your vehicle's visibility to other drivers, promoting safety during the day and night.
• Mud Flaps: Mud flaps are an accessory that can be added to protect it from mud, rocks, and other debris. They are particularly useful for off-road driving and in areas with heavy rainfall.
• Dashboard storage tray: If you want to keep Jimny's interior neat and organized, a dashboard storage tray is a useful accessory.
• Front centre armrest console: One of the drawbacks of the Jimny's compact size is the lack of comfort features inside the cabin. A front centre armrest console can add some comfort and convenience to your driving experience by providing a place to rest your arm and elbow while driving.
• Floor mats: protect your car's floor from dirt, dust, and spills. You can find a variety of floor mats online.
• LED Headlight Bulbs: Improve visibility during night drives with brighter and more energy-efficient LED bulbs.
• Custom Fit LLM LifeLong TPV Mats: These mats are designed to fit perfectly in your car and provide maximum protection against dirt, mud, and water.
• Fog Light Projector: Enhance the look of your Jimny-Car and improve visibility in foggy conditions with this projector fog light kit.
• Universal Car Rear Spoiler LED Strip: Add a touch of style to your car with this rear spoiler LED strip light.
• Modified LED Tail Light With Matrix Turn Signal: Upgrade your car's tail lights with this modified LED tail light that features a matrix turn signal.
• Roof rack: The Maruti Suzuki Jimny may be a five-door SUV, but it is a compact vehicle. This means that more than two people and luggage could be a bit cramped. A roof rack can solve this problem by providing extra space.
These are some of the best Maruti Suzuki Jimny car accessories that you can buy online from Carhatke.com to enhance your car. These accessories can make your Jimny more stylish, functional, and fun to drive. You can also check out other accessories like body graphics, bumper protectors, snorkels, lift kits, alloy wheels, and more.