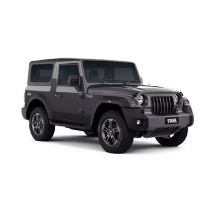 The Mahindra Thar is one of the most popular and iconic SUVs in India, known for its rugged looks, powerful performance, and adventurous spirit. The new-gen Thar 2020 has been launched with a host of features and improvements. But if you want to take your Thar 2020 to the next level, you need to customize it with some amazing car accessories that will enhance its style, comfort, functionality, and safety.
• Custom Fit LLM LifeLong TPV Mats: These mats are designed to fit perfectly in your car and provide maximum protection against dirt, mud, and water.
• Front and rear armrests: These are functional accessories that provide additional comfort to passengers during long journeys. A front centre armrest console can add some comfort and convenience to your driving experience by providing a place to rest your arm and elbow while driving.
• Floor Mats: To protect your Thar 2022 from dirt, mud, water, and spills, you can invest in these 7D car floor mats that are made of high-quality PU leather and have a superior dirt-trapping capacity.
• Mud Flaps: These are functional accessories that help protect the vehicle from mud and debris. They are particularly useful for off-road driving and in areas with heavy rainfall.
• DRL: Daytime Running Lights (DRL) with Turn Signal is a feature available in the Mahindra Thar. These lights are designed to improve the visibility of the vehicle during daylight hours and enhance its overall appearance. They are typically located in the front of the vehicle and automatically turn on when the engine is running.
• Parking Sensor: This is a functional accessory that helps with parking in tight spaces by alerting the driver of obstacles in front of the vehicle.
• Chrome Accessories Combo Kit: If you want to add some shine and glamour to your Thar 2020, you can opt for this chrome accessories combo kit that includes 15 pieces of chrome-plated parts, such as door handles, headlight covers, tail light covers, fog light covers, mirror covers, and more. These parts are easy to install and will give your Thar 2020 a premium and elegant look.
• Modified LED Tail Light With Matrix Turn Signal: Upgrade your car's tail lights with this modified LED tail light that features a matrix turn signal.
• LED Headlight Bulbs: Improve visibility during night drives with brighter and more energy-efficient LED bulbs.
• Fog Light Projector: Enhance the look of your Thar and improve visibility in foggy conditions with this projector fog light kit.
• Universal Car Rear Spoiler LED Strip: Add a touch of style to your car with this rear spoiler LED strip light.
• Modified LED Tail Light With Matrix Turn Signal: Upgrade your car's tail lights with this modified LED tail light that features a matrix turn signal.
These are some of the best car accessories that you can buy for your Thar 2020 online. These accessories will not only make your Thar 2020 more attractive and comfortable but also more functional and safe. You can also check out other accessories like body graphics, bumper protectors, snorkels, lift kits, alloy wheels, and more.
Mahindra New Thar 2020 Accessories Unique Accessories List